Details on Simplified GST Returns – Taxpayer's Profile
GST 2.0, known as the Simplified GST Returns is expected to just indirect taxation for the taxpayers, and give a lift to the economy in India. But, as is commonly said, "Rome was not built in a day" [Nor was it built upon age old methodologies], Simplified GST returns has been arranged and thought altogether along the course of its implementation. Also, to realize these expectations into reality, the streamlined returns is being made with few noteworthy updates and highlights. One such feature, that is planned for simplifying taxation for taxpayers is Taxpayer's Profile.
There are three inquiries regarding taxpayer profile

The first question identifies with the turnover of earlier year. It should be chosen just once in the beginning of the year. If the response to the first question is Yes, at that point the taxpayer can file quarterly or monthly return according to his choice. If the response to the question is No, at that point taxpayer can just file monthly returns.
The next question identifies with the periodicity of the return filing. Whether taxpayer need to file quarterly returns or monthly returns. If the taxpayer says Yes, then dependent on the sort of transactions he can file Sahaj, Sugam or Quarterly (Normal) return. If the appropriate response is no, then Monthly Normal return would be pertinent to him. This question will likewise be applicable in the beginning of the year. When chosen as monthly the taxpayer can't opt for quarterly returns for the whole year and vice versa.
The third question identifies with the type of return which the taxpayer needs to file. The answer to this question relies upon the type of transactions the taxpayer has entered into.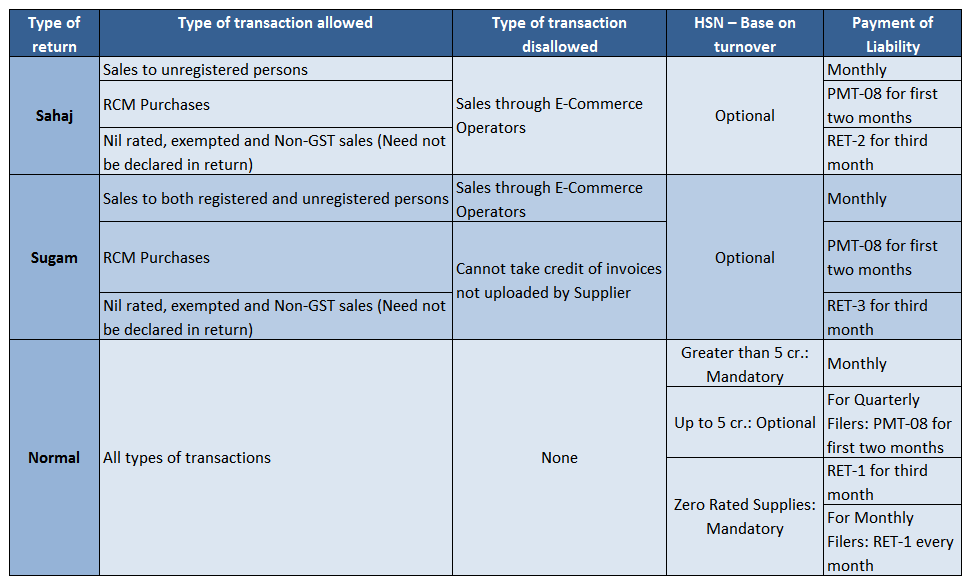 In case of type of return the taxpayer has an option to change the kind of return which he/she needs to file. Following table clarifies the details of the same:

In other words, upward change in return is permitted toward the start of every quarter based on the type of transactions entered in the quarter though descending change is permitted just once toward the start of the year.
Enquire with Certicom Consulting for any queries.
The following two tabs change content below.
Certicom Consulting [ Kedia Arpana & Co ] is a group of Chartered Accountants in the business of Small Business Setup & Statutory Compliance including for Professionals for the past 15 years. We have been an established and popular company with an excellent track record for the best customer satisfaction.